Special Appeals for Hounds Needing Homes
This page is for our hounds who are looking for special homes, and hounds who have been looking for homes for some time.
Some of these
dogs may have special needs or may have simply been overlooked time and time again for a prettier hound. Each and everyone of our dogs are special in their own way, with a special spirit and heart and everyone one of them deserves the chance of a loving home. In return they will repay your care and commitment with their unconditional loyalty and love.



BONNIE SI
X YEAR OLD FEMALE GREYHOUND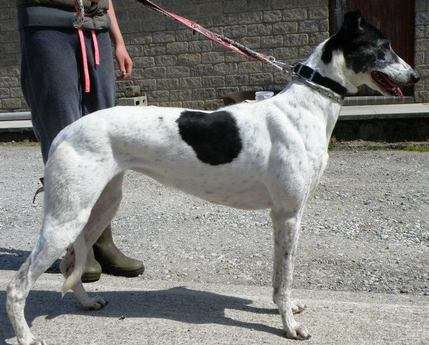 Bonnie is a six year old Greyhound, she came to us after she finished her racing career.

Bonnie would suit a Sighthound experienced home.
She is a strong girl who initially bounces with excitement when she realises she is going out for a walk. We have found that she walks a lot better and we have more control with her in a Halti harness. Bonnie is initially very strong as she sets of on her walk. Once she has had a good sniff around, and boy she is a major sniffer, she settles down to walk quite nicely. She is a very alert girl when out, always on the look out as to what's going on. She is definitely not cat friendly.
We have worked with her on her own and although she has improved she will bark unpredictably when pavement walked. This can be with dogs across the road when they are parallel with her. At other times she will ignore them. This is when the Halti harness comes into it's own to control Bonnie so you can walk on. The barking and pulling episodes are usually when the approaching dog barks at her first. Bonnie is very content to sniff around on her own whilst other dogs do their own thing on the other side of the field.
Bonnie has always been clean and dry in the house and quiet overnight and loves her food. She is happy to share her eating area with another three hounds and they all interchange bowls happily.
She loves playing with all types of toys including tennis balls which she will chase after and drop for you to kick or throw again. Bonnie is also quite content to play on her own especially if she has a tennis ball to squash in her mouth! The fact that Bonnie came to us with an old injury to her back leg doesn't stop her running around in the garden. She will quite happily play ball even after just coming back from a good walk. She interacts well with a fellow foster dog, playing tug of war, wrestling, chasing etc. Bonnie knows her name and comes when called. She's a very affectionate girl who loves to have attention and love.
She is very content to catch up with her snoozes roaching on the settee or finding a bed on the floor or snatching a sleep in a beam of sunlight. Once she has had a morning walk you will not really know she is around until you get a bump from her nose on your bum or your hand to let you know she is still there. It didn't take long for Bonnie to learn wait/stay/no and come. Bonnie is a determined lady and would be better homed as an only dog or with another male dog for company.

Bonnies' positive qualities far outweigh the negatives and with the right owner who is willing to understand her she will make a fantastic companion. She has been waiting some time for a home to call her own and just needs a chance to show what a best friend she will make for someone.
Bonnie is spayed, microchipped, vaccinated and flead and wormed. She can be homed both locally and nationally dependent on a successful homecheck.